However in the mid sixties, J.F.K. was shot and we were still at war in Vietnam. The in 1968, Martin Luther King and Robert F. Kennedy were assassinated, and the country simply exploded in anger. John watched in horror as the riots came down Baltimore Street like wild locusts. All he

could do was pray for God's mercy on his family business. Miraculously the destruction stopped between Calvert and Holliday Streets, less than two blocks from Polock Johnny's. The next day, Johnny called Lexington Market to open a second location. He always wanted to support his family, which now had another mouth to feed.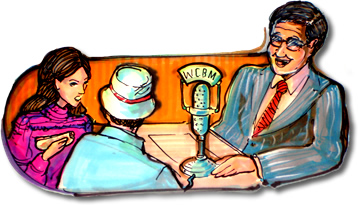 John was still dumbfounded at the power of his childlike prayer to protect his family business. John's special brand of humor was often heard on the radio throughout the seventies with Tom Davis (WCBM) roaring hysterically. The favorite was the "taste test" when the second taste tester says…"Someone took a bite from this Polish…"and Polock Johnny replies, "Try the other end lady, this is radio," and Tom Davis explodes with laughter. Polock Johnny took current events and advertising slogans and adapted it with his humor to the business.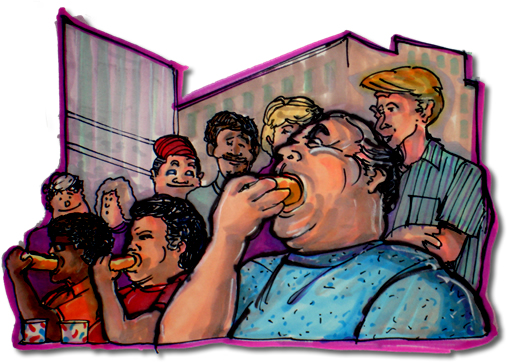 John had annual Polish Sausage eating contests that got media attention locally. In the mid 1970's National Geographic carried the story and it went around the world. (That's why we're world famous.) Well, with all this media hoopla and the opening of the third store on Howard Street, Polock Johnny's was becoming a household name in Baltimore. John had been successful in all his endeavors. In the mid 1970's John began receiving phone calls inquiring about franchise opportunities. (A chance for investors to buy the Polock Johnny concept and open a store of their own).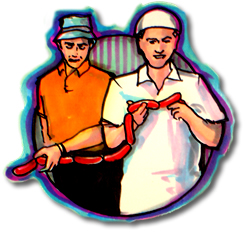 At the time it sounded like a win/win, so seemingly Polock Johnny's were opening up everywhere in Baltimore. John decided to open a meat factory so he could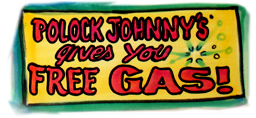 insure the quality of the polish sausage in his company stores and franchises. He hired a specialist from Germany, Pete Mueller, to create his sausage. They became good friends as did their wives. Pete was calm through all the problems they faced getting the new factory opened, then in developing the sausage. Pete was determined and focused, not easily disturbed by the delays and failures. One night, when John arrived home his wife was anxious to share with him the gospel of John 3:16, explaining that was why Pete's family was so content with the challenges of life. They trusted Jesus in all things.

felt uneasy about this Jesus stuff…


he reasoned that he was a good person and listed all good things he did…but with all the justification, he couldn't deny the emptiness he felt inside.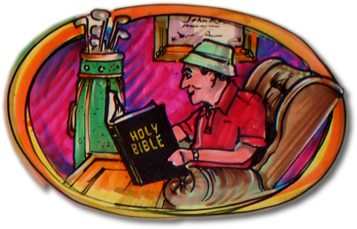 He saw his wife delivered from drinking, then cursing, and little by little the Lord was transforming his wife into a happier and more beautiful woman than the one he had married twenty-four years earlier. From being on the block for so long, John was very skeptical about religions, people and things. He felt bible thumpers were phony and he had a very hardened heart. Someone suggested he read the book, More Than a Carpenter by Josh McDowel. This helped him see the reality of the person of Jesus Christ. Overwhelmed he gave his life to Jesus through a pray like this:
"Lord I am a sinner in need of a Savior. I acknowledge your death for my sins, please come into my heart."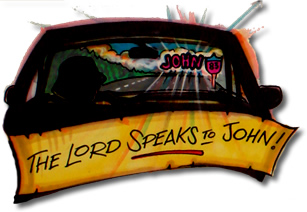 that point on, John began living his life putting Jesus first. While driving home from work on I-83 one day, he felt the presence of Jesus in his car. The Lord was telling him to remove the lottery machines from the stores. Confused John replied, "I donate money from the lottery profits, Lord." Unimpressed God told him, "I don't need that money and by the way, get rid of those cigarette machines too." John did as he was told the next day and whenever someone asked why he took them out he said, "God told me to." John used his time and money to serve Jesus and the people of Baltimore. He could not thank God enough for blessing him with good parents, a loving wife, four healthy children, and for answering his childlike prayer to have mercy on his family business in the sixties. He lived humbly and quietly serving Christ until he was called home to Heaven to live happily ever after. (That's the only way a story can ever end – happy! The rest are fairy tales.) And this isn't a fairy tale!